HID Product
X990 HID search light
This model will be discontinued when current
stock is depleted. It is replaced by models
A3100 HID and A3800 LED
Click on the news tab for complete details.


Features:
* Professional grade unit for industrial,
agricultural, law enforcement, emergency
service, fire, search & rescue and marine use
* Heavy-duty cast aluminum head with
composite lower housing
* Dust and water resistant design
* Adjustable head from 90 to 180 degrees
* Adjustable beam from flood to spot
* Up to 70 minute run time per battery
* 35 watt D2S bulb
* Powerful 3200 lumen output

Options:
* 12V car adapter for extended run time
* Infrared filter kit
* Tripod and magnetic base adaptor kits
Care:
* Clean housing with mild soap only.
* Do not submerge in water to rinse.
* Avoid strong household cleaners as
it will discolor the housing.
* Clean lens with common glass cleaner
only after it has had time to cool.
Tech:
* Recommended wire size for all hard
-wired units is 14g.
* Always run a 15 amp fuse in the main
power feed. (with extended run adaptor)
Kit includes:
1 lamp assembly
2 Battery pack
1 Shoulder Strap
1 Carry Case
1 Charger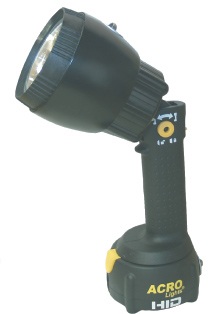 MSRP kit price $449.95

To purchase ACRO products,
please contact our sales office.
This model will be discontinued when current stock is depleted.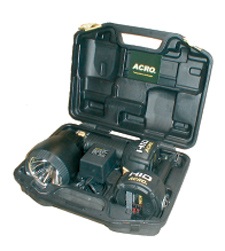 RL-10, RL-10-IR, RL-10-M, 990-DCA, 990-MB, 990 TRIPOD MOUNTING, 990-BATTERY, HID-990-LK, HID-RL1--SB, 990X LARSON ELECTRONICS, MAGNA-LIGHT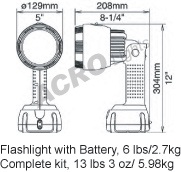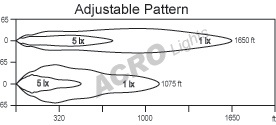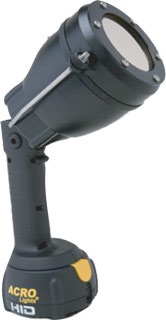 X990 with IR filter installed

Copyright © 2002-2017 ACRO Lights/BMR Product Sales. All rights reserved. All trademarks and material referenced are the property of ACRO Lights.