HID Product
A1841 heavy equipment HID
This is a spec built model based on our model
A1840 and is designed to mount flush, recessed
into a flat surface. It only requires a 4 1/2" x 4 1/4"
square hole with approximately 6 1/8" depth.
The housing allows a 5 degree downward angle
of the lens for better coverage. The protective
grill is designed to bolt directly over the mounting
flange in a stacked manner. Mounting holes are
for 3/8" bolts and it is recommended that grade
8 hardware be used. The mounting brackets and
protective grill are made of .125" 1018 steel and
have a black powder coat finish standard. This
model ships with our standard Deutsch connector
and a 10" patch cord.
Features:
* 12 or 24 VDC operation
* Internal ballast
* 35 Watt D2S bulb, 4300K
* 3200 lumen output
* Cast aluminum housing
* Steel powder-coated brackets
* Steel protective grill
* O-ring seals
* Spot or flood pattern
* Hardened Borosilicate Glass Lens
* Cast aluminum reflector
* Deutsch connectors
* Nylon face ring.

* This assembly is rebuildable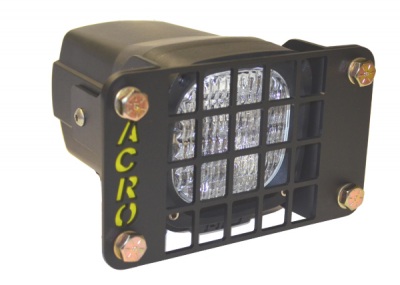 Flush-mount 4" HID
MSRP $379.95
To purchase ACRO products,
please contact our sales office.
Not for highway use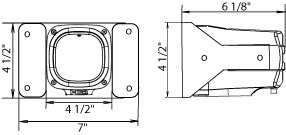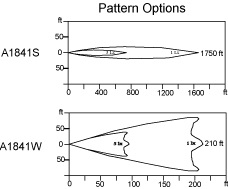 Copyright © 2002-2017 ACRO Lights/BMR Product Sales. All rights reserved. All trademarks and material referenced are the property of ACRO Lights.